How to cure dog separation anxiety
Dog by nature is a "pack" animal and staying alone is a real difficulty for them. Before coming to the subject it is important to define what is separation anxiety. Separation anxiety in dogs is a condition manifested by when a dog left alone, and they exhibit behavioral problems. It is very much similar to human separation anxiety disorder. It is not a physical problem but motional rather to say psycho-somatic disorder. It is due to mainly because of stress and anxiety. To day modern science trying to relate it to genetic predisposition.

Certainly, it is not manifested to all dogs. Most of the normal dog can be alone for about eight hours. Dogs with separation anxiety become nervous without its owne'r presence. This time they start barking, do destruction on household stuffs and in extreme dog could make himself injured.

Typical manifestation
Still the reason is not revealed and being intermingled with a dog discipline problem rather than disorder. Here are some separation anxiety signs..

1. Destruction of household stuffs.
2. Chewing
3. Barking, howling, whining
4. Forgetting about housebreaking - defecation and urination inside the house
5. Self destruction
6. Digging and scratching doors and windows to get it open.

Causes
The cause of dog separation anxiety is unknown. Some pets retain their early fear of being left alone. As told earlier the reason is not clear but some clues are here...

1. Being anxious is an inborn tendency found in some dog just like human.
2. Lacking confidence
3. Being rejected and left alone early in life or born weak.
4. Lack of stimulation
5. Poor health condition
6. Over-pampered.
7. Never being practiced to ba alone from early life.
8. Lack of socialization.
9. Shifting to new neighborhood that makes him confused.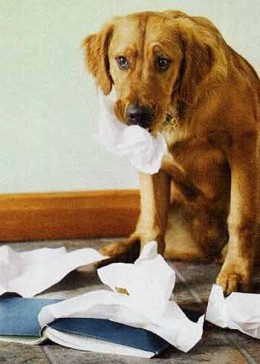 How to rectify the dog seperation problem
Learn How To Cure The Dog Separation Anxiety
Proper training certainly helps to alleviate the problem, and if it starts from childhood it gives the best result. For older dog keep him separated. Practice gradual departure and increase time of separation slowly. Build self-confidence in your dog. Have a walk if you have shifted to new location so that he is aware of the surrounding.
If your dog is suffering form this disorder and you are fade-up, please consult a vet or dog behavior specialist for best help. Here is a good book that may explain all this matter in detail and suggest exactly what you need to rectify this problem by yourself staying in home.